Vienna / Zagreb, 5 November 2019
The Vienna-based South East Europe Media Organisation (SEEMO) has announced on 5 November 2019 that Boro Kontić, journalist and director of Media Center Sarajevo, is the winner of the 2019 Dr. Erhard Busek – SEEMO Award for Better Understanding in South East Europe.
Kontić, born 1955, was chosen for his longstanding media work in South East Europe, supporting development of media, media diversity, media professionalism, and better cooperation between journalists in the SEEMO region.
He started his journalistic career on Radio Sarajevo (1979) as a host of the live radio broadcast called "Primus". In a later analysis "Primus" was estimated to be one of the most significant media project in former Yugoslavia. "Primus" was a basis for the young authors from Sarajevo who were recognized as creators of "Surrealists' a specific movement in arts and media with broader cultural and social implications.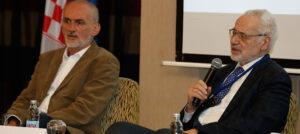 Later (1987) he created "Youth program" as a platform for the new radio voices. Between 1990 and 1992 he was editor-in-chief of the Radio Sarajevo, II program.
During his radio career Boro Kontić won Grand Prix of two remarkable world festivals of radio authors for his documentary "Jazztime": Prix Futura – Berlin and Prix Italia (1991). As a co-author in the radio documentary "Sniper" with colleagues from Danish Radio, he won another Prix Italia (1993).
During the war in Bosnia and Herzegovina and siege of Sarajevo(1992-1996) he reported for BH Radio and Voice of America.
Since 1995 he has worked as a director of the Media center in Sarajevo.
Kontić is author and producer of numerous documentaries. Among them "Years eaten by lions" about journalism and hate speech in ex – Yugoslavia between 1991 and 1995.
Dr. Erhard Busek – SEEMO Award for Better Understanding in South East Europe, which carries a cash prize of €2,000, is scheduled to be presented during the South East Europe Media Forum (SEEMF) on 5 November 2019 (16:00 – 16:15) in Hotel Internacional in Zagreb (Croatia), by Dr. Erhard Busek, president of the Institute for the Danube Region and Central Europe (IDM), by Samra Luckin from SEEMO Bosnia and Herzegovina and by Oliver Vujovic, SEEMO secretary general.
Previous winners of the Dr. Erhard Busek-SEEMO Award for Better Understanding in South East Europe are:
• Remzi Lani, founder and director of the Albanian Media Institute, Tirana (Albania);
• Marina Constantinoiu, editor-in-chief of miscareaderezistenta.ro and former editor-in-chief at Jurnalul National daily in Bucharest (Romania);
• Erol Onderoglu, journalist and press freedom worker in Istanbul (Turkey);
• Radomir Licina, founder and senior editor daily Danas, Belgrade (Serbia);
• International Academy, Belgrade (Serbia) for the project Media and Inclusion of Persons with Disabilities;
• Željka Lekić-Subašić (Bosnia and Herzegovina), head of ERNO (Eurovision News Exchange for Southeast Europe) Coordination Office;
• Nenad Šebek (Greece/Serbia) executive director of the Center for Democracy and Reconciliation in Southeast Europe (CDRSEE) in Thessaloniki for 12 years, developing and working on a wide variety of programmes, from the joint history project to the regional television talk show "Vicinities";
• Jeta Xharra (Kosovo) director of the Balkan Investigative Reporting Network (BIRN), as well as a presenter on, and the editor-in-chief of, "Life in Kosovo";
• Drago Hedl, (Croatia) journalist, Zagreb-based daily Jutarnji List;
• Omer Karabeg (Bosnia and Herzegovina), journalist, South Slavic and Albanian Language Service program of Radio Free Europe (RFE/RL), founder and editor of the radio program Most (Bridge), Prague, Czech Republic;
• Boris Bergant (Slovenia), co-founder of the Alpe Adria broadcasting project, former deputy-president of the European Broadcasting Union (EBU) and former deputy director of Radio Television Slovenia;
• Brankica Stankovic (Serbia), author of the TV program 'Insajder', produced by B92 Television, Belgrade, Serbia;
• Milena Dimitrova (Bulgaria), columnist, Sofia-based daily Trud, Bulgaria;
• Danko Plevnik (Croatia), columnist, Split-based daily Slobodna Dalmacija;
• Brankica Petkovic (Slovenia), Head of the Center for Media Policy, Peace Institute, Ljubljana, Slovenia;
• Kemal Kurspahic (Bosnia and Herzegovina / USA), editor-in-chief of the Sarajevo-based daily Oslobodjenje during the war in Bosnia and Herzegovina and author of Prime Time Crime;
• Denis Latin (Croatia) author of the TV program 'Latinica', Croatian Radio Television (HRT).
For questions and more information please contact: info@seemo.org